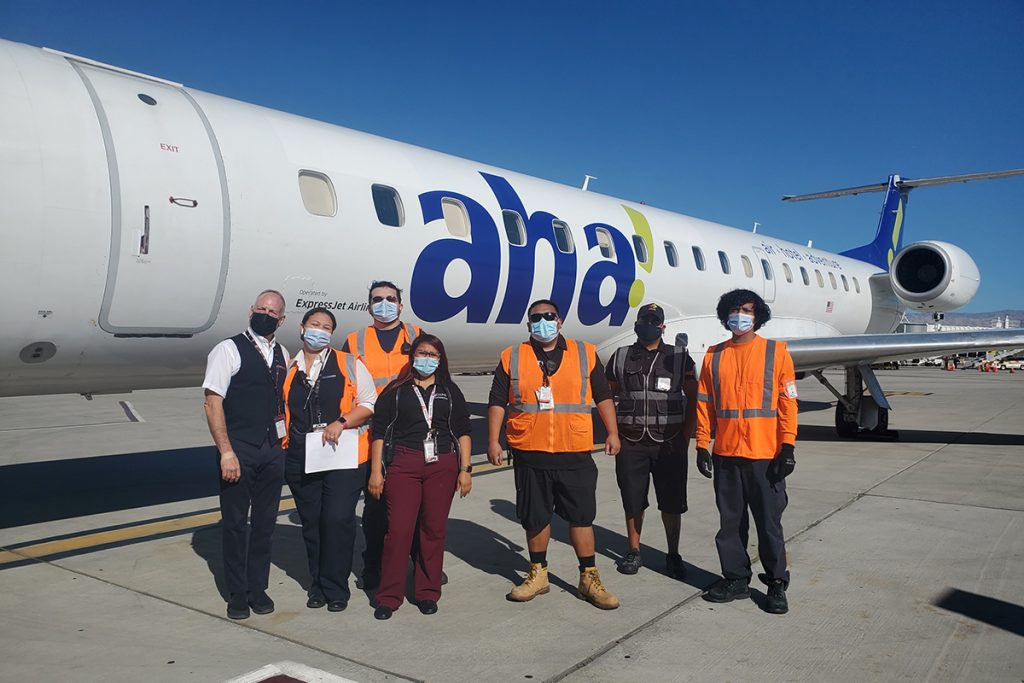 (ATLANTA, GA, Jan 10, 2022) Unifi, North America's largest provider of aviation services, recently started its 10th station for aha! Airlines, making Unifi the largest ground handling provider for the Reno-based airline. Unifi started its partnership with aha! on October 24, 2021, at Reno-Tahoe International Airport and began operations at Palm Springs International Airport on January 3, 2022.
Unifi provides aha! with ground handling operations and passenger services supporting over 50 flights per week.
"We're proud to partner with aha! and support their vision of providing convenient, nonstop flights to high-quality destinations," commented Gautam Thakkar, Unifi's CEO. "By providing full ground handling services to 10 of their 11 locations, we're happy to be their largest ground-handling partner. We're committed to providing aha! the high-level service Unifi is known for and strengthening our relationship into the future."
ExpressJet Airlines relaunched flight operations in 2021 with its aha! leisure brand. aha! seeks to provide travelers in smaller communities, many who have seen air service reduced over the past decade through airline mergers, with convenient, short, nonstop flights to high-quality destinations like the Reno-Lake Tahoe region. In addition to offering value-priced, nonstop flights, aha! will soon partner with resorts, casinos and attractions to "bundle" value-priced vacation packages.
"We have been pleased to partner with Unifi, which has helped contribute to aha!'s launch and our continuing success," said ExpressJet Acting CEO John Greenlee.
Unifi provides full ground handling for the following locations served by aha!: Bakersfield, CA; Eugene, OR; Fresno, CA; Medford, OR; Ontario, CA; Palm Springs, CA; Pasco/Tri-Cities, WA; Redmond, OR; Reno, NV; and Spokane, WA.
About Unifi
Unifi is the largest aviation services provider in North America servicing more than one million flights each year. With over 20,000 valued employees across more than 200 locations, Unifi provides a full range of above and below wing services including ground handling, cabin services, passenger handling, security, facility, cargo services, ground support equipment maintenance, and more to most major US-based airlines, airports, and cargo providers. Unifi's vision is to be the most respected company and to provide an exceptional experience getting aircraft and passengers to their destination, safely. Find out more at www.unifiservice.com.
About Argenbright Holdings
Argenbright Holdings is a privately held provider of workforce solutions in human capital-intensive industries headquartered in Atlanta, Georgia, with decades of experience in security, aviation services, and facilities services. Argenbright Holdings' mission is to provide legendary service to their clients by delivering the personal attention expected of local service providers, as well as having strong processes, technology-driven solutions, and national reach. Find out more at www.argenbrightgroup.com.
###