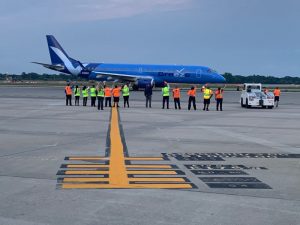 (ATLANTA, GA, January 31, 2022) Unifi, the largest provider of aviation services in North America, recently expanded its full ground handling services with Breeze Airways with the addition of a new station in West Palm Beach, Florida. The new station marks Unifi's 11th location with Breeze, making Unifi the airline's largest provider of ground handling services.
Unifi has provided aviation services to Breeze Airways since its inaugural flight on May 27, 2021. It is expected Unifi will support six flights per week at the West Palm Beach International Airport.
"We've been a proud partner of Breeze Airways since they started," commented Gautam Thakkar, Unifi's CEO. "As their largest aviation services provider, we are thrilled to support their Seriously Nice™ approach to their customers by delivering strong performance across all measurable categories."
Unifi provides full ground handling for Breeze Airways at the following locations: Akron, OH; Bentonville/Fayetteville, AR; Hartford, CT; Huntsville, AL; Louisville, KY; Norfolk, VA; Providence, RI; San Antonio, TX; Tampa, FL; Tulsa, OK; and West Palm Beach, FL.
Breeze Airways is the nation's best-funded start-up airline in history, flying between 16 cities across 13 states, growing to 18 cities and 14 states by February 19, 2022. Founded by aviation entrepreneur David Neeleman, the low fare carrier merges kindness and technology to deliver its signature Seriously Nice™ nonstop service between secondary airports, bypassing hubs and saving Guests time and money. Breeze never charges change or cancellation fees, even up to 15 minutes before departure, and flight credits don't expire for 24 months.
"Unifi is an ideal partner for Breeze," said Danny Cox, VP, Guest Experience.  "The flexibility they offer allows us to scale up quickly and cost-effectively.  Our partnership grows and deepens as Breeze expands, and Unifi helps us deliver on "Seriously Nice" for our Guests."
About Unifi
Unifi is the largest aviation services provider in North America servicing more than one million flights each year. With over 20,000 valued employees across more than 200 locations, Unifi provides a full range of above and below wing services including ground handling, cabin services, passenger handling, security, facility, cargo services, ground support equipment maintenance, and more to most major US-based airlines, airports, and cargo providers. Unifi's vision is to be the most respected company and to provide an exceptional experience getting aircraft and passengers to their destination, safely. Find out more at www.unifiservice.com.
About Argenbright Holdings
Argenbright Holdings is a privately held provider of workforce solutions in human capital-intensive industries headquartered in Atlanta, Georgia, with decades of experience in security, aviation services, and facilities services. Argenbright Holdings' mission is to provide legendary service to their clients by delivering the personal attention expected of local service providers, as well as having strong processes, technology-driven solutions, and national reach. Find out more at www.argenbrightgroup.com.