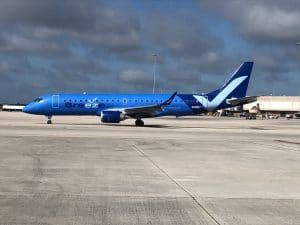 (ATLANTA, GA, April 25, 2022) Unifi, North America's largest aviation services provider, recently secured full ground handling contracts at six new stations for Breeze Airways. The locations include Los Angeles, CA, Nashville, TN, Jacksonville, FL, Las Vegas, NV, San Bernardino, CA, and San Francisco, CA. The new stations bring Unifi's total locations with Breeze to 17, expanding their position as the airline's largest provider of ground handling services.
"We are extremely proud and happy to expand our partnership with Breeze Airways to support them across more locations in their rapidly expanding network," commented Gautam Thakkar, Unifi's CEO.
Unifi provides full ground handling for Breeze Airways at the following locations: Akron, OH; Bentonville/Fayetteville, AR; Hartford, CT; Huntsville, AL; Louisville, KY; Norfolk, VA; Providence, RI; San Antonio, TX; Tampa, FL; Tulsa, OK; and West Palm Beach, FL.
Breeze started service on May 27, 2021, and has now operations to and from 18 cities across the country.  Last week, the airline announced new service from New York City's Westchester Airport and 9 new routes. Together with the 10 new cities, the airline announced last month, Breeze will operate 86 routes between 29 cities across 18 states by year's end.
"Unifi has played a key role in our success, supporting our Seriously Nice approach with our Guests, and we're really happy to expand our partnership with them," said Steve Sye, Breeze's Director of Station Operations and Guest Services. "We will now partner with Unifi in 17 of our locations across the country and look forward to continued growth with them."
About Unifi
Unifi is the largest aviation services provider in North America servicing more than one million flights each year. With over 20,000 valued employees across more than 200 locations, Unifi provides a full range of above and below wing services including ground handling, cabin services, passenger handling, security, facility, cargo services, ground support equipment maintenance, and more to most major US-based airlines, airports, and cargo providers. Unifi's vision is to be the most respected company and to provide an exceptional experience getting aircraft and passengers to their destination, safely. Find out more at www.unifiservice.com.
About Argenbright Holdings
Argenbright Holdings is a privately held provider of workforce solutions in human capital-intensive industries headquartered in Atlanta, Georgia, with decades of experience in security, aviation services, and facilities services. Argenbright Holdings' mission is to provide legendary service to their clients by delivering the personal attention expected of local service providers, as well as having strong processes, technology-driven solutions, and national reach. Find out more at www.argenbrightgroup.com.
About Breeze Airways
Breeze Airways began service in May 2021 primarily in the east and southeast of the United States, but is expanding west across the U.S. with 86 routes between 29 cities in 18 states.  Founded by aviation entrepreneur David Neeleman, Breeze is a low fare carrier offering "new, nice and nonstop flights" between secondary airports, bypassing hubs for shorter travel times.  Breeze's mission is to make the world of travel simple, affordable and convenient, using technology, ingenuity and kindness to improve the travel experience.   With seamless booking, no change or cancellation fees, up to 24-months of reusable flight credit and customized flight features delivered via a sleek and simple app, Breeze makes it easy to buy and easy to fly.  Flights are on sale at www.flybreeze.com and via the Breeze app.